Speedy Duo is an automatic tray sealer configured with two independent sealing units that can be activated via touch screen. In fact, the operator can choose which of the two mould to use and change modes easily and quickly as needed. This eliminates the mould change operation, gaining useful time and increasing productivity.
Sealing

Gas Flush

MAP/ATP

Vacuum

Skin

Overskin

Extraskin

Extraskin on Cardboard
| | | | |
| --- | --- | --- | --- |
| Technical Data | FoodPack Speedy Duo | | |
| Dimensions | 323 x 103 x h 158 cm | | |
| Weight | 720 (N) / 800 (VG) Kg | | |
| Air Consumption | 6 bar - 70 (N) 75 (VG) Nlt/cycle | | |
| Sealing Area | 380 x 270 x h 135 mm | | |
Activated by servo motors and settable via panel to parameterize speed, acceleration and deceleration. An additional option allows a third step to be added, increasing the potential of the load area.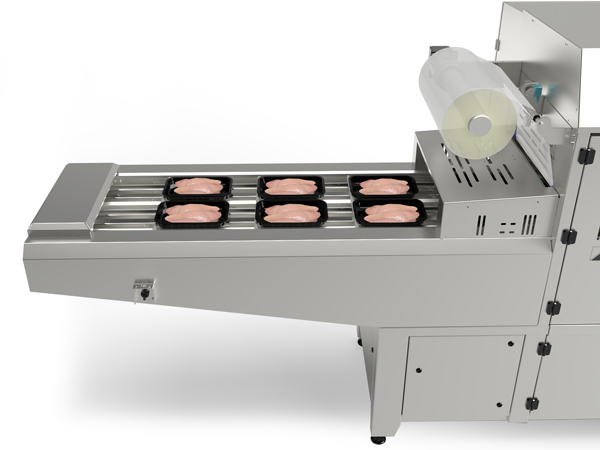 All working parameters of the machine are controlled by this unit. It stores different recipes for quick use by the operator. The panel includes access to the self-diagnostic system to process and solve any problem of the machine.
Two independent sealing units
It increases productivity by allowing switching from one format to another without the need to change moulds. Should it be necessary, two identical moulds can be processed simultaneously.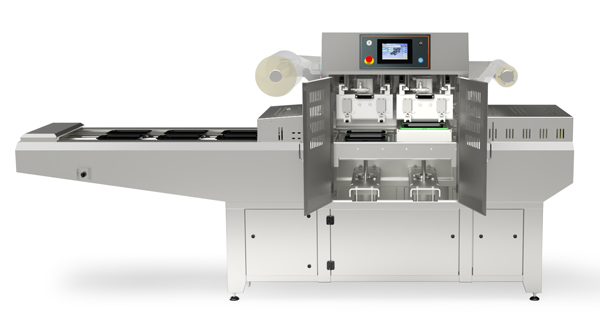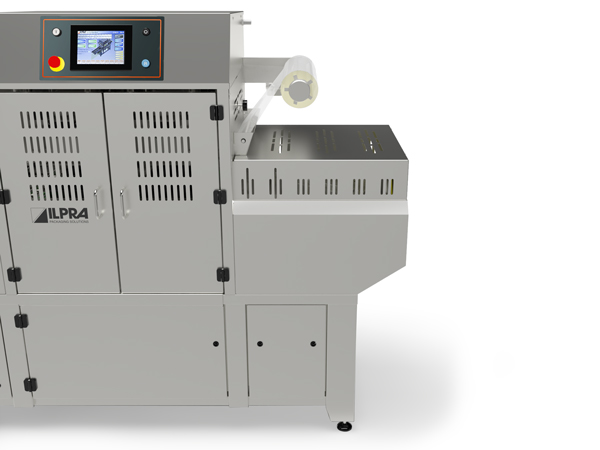 Unwinding-rewinding system with automatic reels
This unit has the function of automatically placing the correct amount of heat-sealing film, unwound from a reel, in the sealing area and rewinding the scraps after the sealing-cutting operation.
PROGAS SYSTEM

Technology patented by ILPRA that guarantees a lower use of gas and a higher working speed. Available on all models in this line.

Optional: EXTRASKIN SYSTEM

It allows Skin packing even at high degrees of protrusion.

Optional: PRE-HEATING SYSTEM

Pre-heating of the film to optimize packaging in Skin.